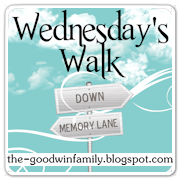 The way it appears, I'm one of the only not-moms that do Wednesday's Walk. But I just think it's fun... that's all that matters, right? It also helps me remember things that I so often forget. (I have short-term memory loss. I remember long-term, but short term is so hard for me. You can say something and I'll try to remember, and then five minutes later, I know there's
something
to remember, I just don't know what it is.)
Anywho, today marks the date of Lexi's exploratory surgery. She had an Ovarian Cist/Sist. So I'm like: "HOW DO YOU SPAY A DOG AND
NOT
TAKE OUT HER OVARY???!!!" But it's possible, I guess.
Six hours in Columbus today was what it turned into. We dropped Lexi off, and then we hit the mall. It's just like the Greene... but better.
If you've been in Ohio as long (or longer) as I have, The Greene is usually as good as it gets. But noooo.... Outlet mall right across the street from the place! Stores like "BuyBuy Baby", (never heard of it before) "Bath and Body Works", "Dick's" [Sporting Goods], and you may have never heard of it, but "Five Below". Everything $5 and lower! It's not like "Dollar Tree", where a lot of it's a rip off, but they have T-Shirts and everything.
There was a guys' tee (I could care less that I'm a girl.... it was a shirt that is for both genders!) that said "I Love To Read". HaHa. That defines me, I should know.
Wanna know why I didn't buy it?
It said "i love to read." We all know what's wrong here. Capitalization.
Enough, already. I loved that shirt, but bad grammar is not acceptable.
------
This Wednesday's Walk is about the dog I call Lexi.
It started with a student at Ohio State. Adela is her name. She went to our church and was in my LifeGroup. Her parents moved to D.C., but they visit very often.
Anyway, she had a dog with no other name than:
LEXI!!!!! She was a beagle mix with labrador retreiver, and she was a big puppy. She was super quiet, but she grew to be super bold. She was like a jalapeno hot dog!!!! That was lame, I know.
Adela gave us Lexi because she was moving to a smaller apartment, and her dog had to be under 35 punds. Well Lexi wasn't gonna be that small for long, so that's how we got her.
At the pound/shelter, 3 out of 300 dogs survive. She survived. Formerly abused, but she's in better hands now.
That's how we got Lexi!