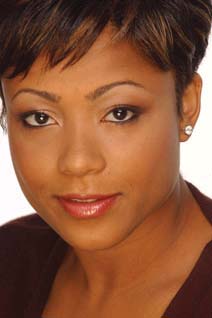 This is Dominique Dawes. Notice, if you look up magnificent seven photographs, she is the ONLY black gymnast you'll find. And she'll be the only one for quite a while.
here is Dominique's story:
Though Dawes was a solid team player in 1992, she did not break through as an all-around gymnast until 1993. Indeed, she is probably best known for her performances at the 1993 and 1994 World Championships. In 1993, Dawes led the competition after three events, even beating her more famous teammate Shannon Miller. Then, showing the same boldness that she had in 1992, she decided to try her harder vault (1 1/2 twisting layout Yurchenko) which was worth a 10.00 instead of simply a full-twisting layout Yurchenko which had been devalued to a 9.8. She made the first vault, but slipped and fell on the second, immediately bursting into tears. With the new rule that both vaults were averaged in all-around competition, her fall dropped her to 4th overall while Miller won the title.[5][6] Famously, after the vault fall Dominique's coach Kelli Hill exhorted her to be proud of her performance anyway, stating: "When did you ever think you would be in that position? You have to be happy with yourself. Come on. Be happy. Stand up and wave". Dawes did so, and earned a standing ovation from the crowd.[7] After this disappointment she rebounded in the event finals, winning two silver medals on bars and beam.
That's Dominique D.'s story!
Who's the next magnificent???